Giving Back
March 07th, 2019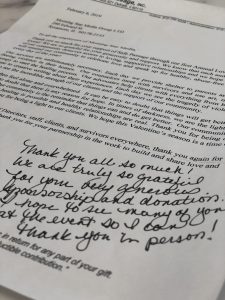 One of the things we are most proud of at MorningStar is the ability that we have to give back to our community. If you happened to see
this post
a couple of weeks ago, you'll know just how much giving back to where we live and work is important to us! That's why we were honored to recently support
Safe Passage
with their First Annual Love Over Violence Event, which was an event established to celebrate love and awareness of healthy relationships. Safe Passage does amazing work each day to provide shelter to parents and children who are escaping violence; their counselors help survivors heal; on-site advocates help with life skills as survivors transition back to work and to work through their emotions. We were truly honored to get to help Safe Passage kick off this new annual event and to support the incredibly important work they do for our community.
---
Responsive Hierarchy
February 12th, 2013

Designing an eye catching site while maintaining a company's motives has its challanges. Add responsive layout to the equation and the challenge becomes even greater.
How We Do the Voodoo We Do
As a marketing company, we know a simple concise message is the proper approach. There can be a lot of back and forth with the client to understand their needs and goals. We weigh what is truly important and what is just filler. The less filler the better.  We also realize that a simple, clean design works best- but again, the client also has needs to take into account. We trim and consolidate as much as we can before finally getting started with our design.
Approve it, build it, launch-it, done……..hold on, not so fast.
Wait, Wait, there's More! ….or is there less?
Our responsive sites are designed at four specific browser widths to target specific devices:
960px and Above - Desktop/ tablet landscape
770px to 960px  - Tablet portrait
480px to 760px  - Smartphone landscape
320px to 480px  - Smartphone portrait
Since we have already simplified and whittled down the design/content, there is not much more we can, or should, remove from the layout for smaller devices.  Still, we always try to offer up the most optimized experience especially in regards to the smaller devices. Here are a few creative examples of how this is done.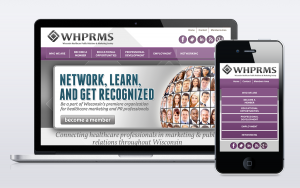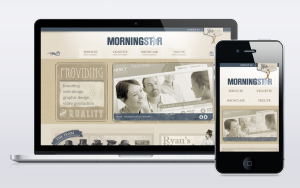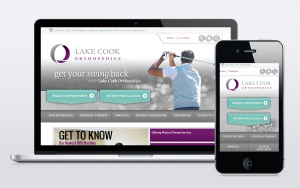 ---
WCSF 2012, Highlights
January 24th, 2013

Well, it's been just over a year since our company made a decision to jump feet first into WordPress, an open sourced CMS platform, and we haven't looked back since. Last year I attended Wordcamp in San Francisco 2011 as a newb. I managed to keep up and bring back some gems for the crew back here at Morningstar. Like youngsters, we had to learn to walk before we could run, stumbling over new features, plugins, and themes. We made mistakes along the way but, we managed to learn from them, and in one year's time we were able to put out 30+ custom themes, (five of which were 
responsive
) and even developed a custom plugin

While still inspirational and exciting, this years Wordcamp was a completely different experience. Rather than try to keep up and grasp ideas, I was able to follow along, participate and see the "big picture". Entering Wordcamp San Francisco 2012 with this past years work under my belt provided me with confidence. What was once "how do I do this?" is now, "How do we do this better?" . Speed and efficiency are always a focus in our business, whether its' about our processes here in the office, or how well our sites run across all browsers, speed is always in the foreground. I was excited to find talks at Wordcamp SF2012 focused on improving performance overall. The always-amazing Chis Coyier of 
css-tricks.com
 touched on a few plugins to cache elements as well as utilizing GZip to minimize load time. Sara Canon of 
ran.ge
 spoke specifically about preparing ourselves for retina displays. I had the pleasure or hearing "The State of the Word" which is given every year at Wordcamp SF. At which we got a sneak peak of WordPress 3.5. There was talk of retina display support as well as faster/better media handling. This is quite forward thinking considering Retina is not necessarily the current standard, but moving there quickly. It was also nice to see we were doing a few things right. I sat through a talk about advanced custom post types and their relationships to others, and found we have been on the right track for some time. We were also given the opportunity rub elbows with some pretty amazing people at the Developer Hack Day. The focus: contribute to WordPress core. Make the tool we are utilizing day to day, better.  Wordpress core developers walked us through the steps to write a patch to improve WordPress. Patches are a large part of how Wordpres constantly improves itself. Users are able to improve code via a ticket system. Once a patch is approved, it will be incorporated into the next release of Wordpres. My co-worker Gustave and I were able to write a patch and submit it by the end of the day. Pretty amazing experience. We even managed to make it into
Matt Mullenweg's
photo blog
. (Me-very front left.  Gus- bearded)) Overall the trip absolutely confirmed my allegiance to WordPress and it's community, I once again found that this community is full of  altruistic individuals that want to be a part of something meaningful, and that is exactly how I feel about my experience. Oh yeah! I also saw the most amazing 
Sparkly lion is full of sparkles
! Can't Wait till next year! Cheers
---