Change is scary, there's no denying it. I started going to school when I was five years old. By the time it was all said and done, I had attended school from the age of five to twenty-two years old. That's seventeen years of school. Graduating and entering the workforce was the biggest change I'd ever experienced. Fear was inevitable: will I have the design skills, the confidence, the work ethic, and the creativity to excel in my career? Will I even find a job? The answer is yes. If you put in the necessary effort into your courses, you will do great. Yes, working as a student is different than working as a professional, but that's not a bad thing. The skills I learned in school still apply to my work and the rules of design remain the same.
The hardest thing to adapt to has been meeting the expected level of organization. This is so important. When you're in school, they remind you to stay organized, but there's nothing to enforce the importance of organization. In school, you're the only one who works on a project, and you rarely have a reason to go back and work on it again. When you're working as a professional designer, other people may be working on the same files as you. You may have to go back to projects months later. If your files aren't well organized, projects will take longer than necessary, and it can be very frustrating for your coworkers. Each project needs to be in the proper folder and named correctly. All the necessary resources—like fonts, photos, and content—need to be easily accessible within the same folder.
Your projects aren't always big, glamorous posters and beautiful packaging, but they're still important. College was all about portfolio building, so having "wow" pieces was important to create a stunning collection of work. That's not always what a client needs. Clients need day-to-day things. They need pieces that will efficiently communicate information to their customers and don't always need bells and whistles. Simple e-blasts and complicated forms are just as important as a beautifully laid out magazine or a super creative billboard—maybe even more important.
The best difference, in my opinion, is no longer having to wear different hats. I am no longer a writer, proofreader, photographer, and graphic designer. I now have a team to work with–there are people with specialized skills in each area. I have access to stock photos and fonts that I never would've had access to in school. This allows me to focus on the design instead of worrying about the quality of my writing and photography. It allows me to be the best designer I can be, and for that, I am thankful.
Being a graphic designer isn't easy, but my classes and professors prepared me well. Yes, it may be a little different than school, but that's not a bad thing. The skills my professors taught me still apply, they've just grown and evolved. The standard for organizing files has definitely been raised, but this is essential for working on a team. My daily projects now include e-blasts and forms, in addition to billboards and magazines. But my favorite thing that has changed, is I get to be a graphic designer, and not try to wear all of the hats.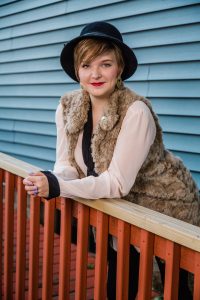 Rachel Baumgartner, MorningStar Graphic and Web Designer, is a troubleshooter. You can trust Rachel's fresh-eyed, yet masterful, approach to your marketing visuals. She takes a page from the pros in her design philosophy – the client deserves effective and alluring materials every time. This Northern Illinois University visual communications graduate can find a unique angle on any project to give it the desired effect it requires.