Take a minute and at look at the numerous food blogs and Instagram accounts that highlight the wonderful world of food. From professionals with food stylists that make sure the mustard to ketchup ratio is just right to the travel blogger that makes sure that they capture each dish that they've enjoyed during their exotic trip, "eating with your eyes" is just par for the course. Photographing recipes is almost just as challenging as creating the dish itself. When photographing culinary delights, there are some helpful hints that you should pay attention to in order to bring your photo to another level. Some items to pay attention to include the type of surface that the food will be placed on. Will it just be a plain, run of the mill, round white plate or with it be something a little different? Choose your plate wisely. Now, think about the surface that the vessel will be sitting on top of. Wood grains offer great warm tones to a variety dishes, but even simple placemats can add just that small contrast to help bring out some color to any food.
Light offers the ability to add drama to a dish. When photographing food, a large soft light can work wonders; for example, a large window in the front of a restaurant can be a photographer's best friend. Adding highlights and shadows to help give food the dimension. As you compose your scene, one of the aspects to pay particularly close attention to is cleanliness. Make sure all items in your shot are clean and pay attention to your background, because nothing turns off an appetite more than a dirty plate or spoon.
Finally, be sure to play with your food. Interacting and moving items allow for different perspectives that can lead to more enticing photos. Add garnishes and change out surround surface and background items to help bring that small pop of color and variety.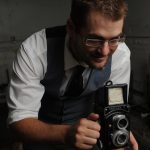 Jeff Threewitt is MorningStar's video and production expert. He adroitly balances the titles of video producer, videographer, video editor, photographer, production coordinator, and motion graphic designer. If you can film it, Jeff can give it wings.