After weeks of back and forth with your marketing agency you've finally approved the PERFECT logo for your new company. You have a laundry list of items you want created with your new look and can't wait to start.
However, a feeling of panic arises while opening the finalized folder when you find there isn't just one logo but SEVERAL logo files all with names you've never seen before. RGB? CMYK? .AI? .JPEG? …it goes on and on. You realize you have some learning to do before applying your new logo to t-shirts, bumper stickers, web banners and yeti tumblers.
But not to worry, we have laid out a file guide just for YOU!

Why Does the File Type Matter?
It is so important to use the appropriate logo file for your specific project. The last thing you want to do is spend your hard earned money on a logo and not have it looks its best when applied. The file type used on web marketing is completely different than print, not only do the qualities differ, but the colors as well. Below you can find a cheat sheet for all the file types and how to use them.
RASTER FILES
Raster files are great to use on web projects, although they still can come in handy for print. They don't save out to be huge files so the load time on sites is key to not slowing down your customer or viewer. What you see is what you get with Raster files, you cannot edit color or type, and even the size must stay the original dimensions. If you do try to make the logo larger you will end up losing quality.
JPG
The biggest thing to keep in mind about JPEGs – they can't be saved with a transparent background. Whatever the background color is will remain the same and can't be changed.
JPGs are great for Facebook cover photos, posts or profile photos. Along with web banners/graphics.
PNGPNGs have the ability to be saved out with a transparent background while still remaining a smaller file size. You will have the ability to place your logo over a different color or picture background.
VECTOR FILES

Vector files can be made as bigger without losing quality. It is really important to have a copy of a vector file for your logo.
EPS

An EPS can be scaled as large as you would like without losing any quality. This is great for print files.
PDF
This would be a great option for text documents. By sending your logo as a PDF this will make sure the font, logo and styling stays consistent when placed in programs like Microsoft Word.
Ai

The Ai. (or illustrator) file is VERY important to keep. This is the art file that your designer used to create the logo. Keep in mind unless you have Adobe Illustrator this will not open on your computer but is necessary to keep in case you would like to make any changes to your logo in the future.
RGB vs. CMYK
When deciding what logo file to use keep in mind that RGB is best used for screen application (websites, facebook, electronic PDFs). While CMYK files are saved out to be used for print.
Ready for Application!
Now that you have received a crash course in file types, we hope you feel less overwhelmed and more excited to introduce your logo to the world with the utmost quality!
Congratulations on your new brand!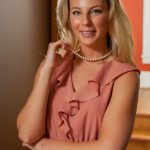 Lauren Copple has what it takes to nurture your graphic design projects to make potential customers look twice. With a B.F.A. in visual communications from Northern Illinois University and experience working with clients in healthcare, retail and education, Lauren brings creativity and personality to your brand.