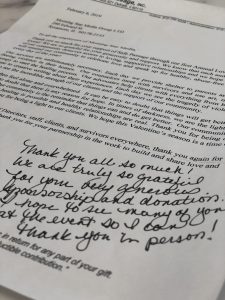 One of the things we are most proud of at MorningStar is the ability that we have to give back to our community. If you happened to see this post a couple of weeks ago, you'll know just how much giving back to where we live and work is important to us!
That's why we were honored to recently support Safe Passage with their First Annual Love Over Violence Event, which was an event established to celebrate love and awareness of healthy relationships. Safe Passage does amazing work each day to provide shelter to parents and children who are escaping violence; their counselors help survivors heal; on-site advocates help with life skills as survivors transition back to work and to work through their emotions.
We were truly honored to get to help Safe Passage kick off this new annual event and to support the incredibly important work they do for our community.