Times are different in 2020. We are spending a lot more time at home than usual. As it is still unsafe to venture outside, much of our time is spent watching Netflix, playing video games, and browsing the web.
That means more people are looking at your website than ever before. Customers that might normally shop in your store are now looking to buy your products online. What will they see when they browse your site?
As technology changes so must we. Recently, a client came to us with a challenge. "We want our interior pages to look more like the home page." This didn't mean sharing a common header and footer with the home page, they wanted more diversity on every page. A sense of uniqueness with every click-thru.
So we put our heads together and came up with a solution that allows you to have far greater customization options on every single page using the new WordPress editor and Block Lab. Every page a home page.
In 2020, your website may be the first interaction you have with a prospective customer. Being able to tailor that first impression no matter what page they enter your site on can go a long way towards gaining their business.
So I ask you again, what will your customers see when they browse your website?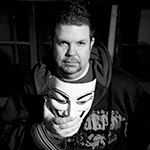 Rob Lancaster is the gamekeeper. To be a crack shot at web development at MorningStar Media Group, you need a gamer's eye, and Rob knows his way around visual marketing. Imagine a web space where clients enjoy their time perusing its surprises; they can't help but invite their friends to join in.